Mitsubishi Pajero for sale in Kenya
What would you like to do?
About the Mitsubishi Pajero
What is the price of Mitsubishi Pajero in Kenya?
Prices of locally used Mitsubishi Pajero in Kenya will range from as low as KES 4,200,000 to around KES 6,800,000 for new models. Below is a price guide of newly imported Mitsubishi Pajero in Nairobi and Mombasa.
| Model Year | Price |
| --- | --- |
| 2014 | KES 4,200,000 ~ 4,400,000 |
| 2015 | KES 3,950,000 ~ 4,200,000 |
| 2016 | KES 4,350,000 ~ 5,000,000 |
| 2018 | KES 6,000,000 ~ 6,400,000 |
| 2019 | KES 6,550,000 ~ 6,800,000 |
Are you looking at buying new or used Mitsubishi Pajero in Kenya? Are you looking at selling your used Mitsubishi Pajero in Kenya? Do you want to know the prices of new or used Mitsubishi Pajero in Kenya? Do you want to know how to import Mitsubishi Pajero from Japan? Please visit our show room in Karen, Nairobi and our sales agents will guide you.
Below is a list of Mitsubishi Pajero for sale in Nairobi, Kenya and also others available in Japan. You can now buy and import year 2022, 2021, 2020, 2019, 2018, 2017, 2016, and 2015 Mitsubishi Pajero from Japan to Kenya.
Mitsubishi Pajero Image Gallery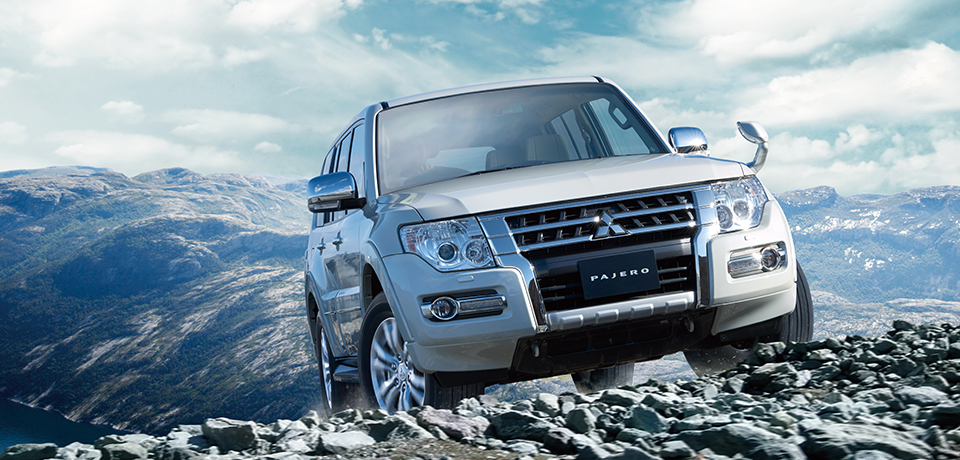 Full Mitsubishi Pajero Specifications
Mitsubishi Pajero for sale in Nairobi
Four Wheel Drive
Automatic
Ask for price
wine
4WD Long Super - Exceed
Ask for price
About the Mitsubishi Pajero
Array
Dakar-proven and off-road-ready, the Mitsubishi Pajero has been the icon for 4by4 on Kenyan roads for a long time. The Pajero's history can be traced back to 1934 when the Japanese government commissioned the Mitsubishi PX33 SUV for official use. Built by Mitsubishi Heavy Industries, the PX33 was their first four-wheel drive passenger car commissioned by the Japanese Army Automobile School. In 1973, Mitsubishi developed the concept into the first Pajero prototype. Four generations later, and the rest is history. The Mitsubishi Pajero has proved itself in terms of endurance, stability, and comfort. It remains the go-to SUV for people of different demographics around the world.
History of the Mitsubishi Pajero
First-generation (L040; 1982–1991)
The first generation came available with a 2-door body on a short wheelbase. There was a four-door option as well on a long wheelbase. The first generation had seven engine options during its tenure. They included 2.0 liter 4 cylinder petrol engine, a 2.0 four-cylinder turbocharged engine, a 2.6-liter four-cylinder petrol engine, a 2.3-liter naturally aspirated diesel engine, a 2.3-liter turbocharged diesel engine, a 2.5-liter turbocharged engine, and a 3.0-liter V6 petrol engine alternative. The first generation was a bit of a strange phenomenon to the motoring world considering its inclusion of a front double wishbone suspension with torsion bar springs and suspension seating. With the moderate engine capacity, the output was 83 to 96 hp for the 2.0-liter models, while the 2.6-liter models got as high as 110 hp. The 3.0 V6 option could produce 139 hp. Non-permanent four-wheel drive was standard for all of the models. The transmission was available in two options, which were four-speed automatic and a five-speed manual. The first generation models came with moderate interior comforts for their era. The 1987 flagship model came with features like front seat heaters, leather headrests, and a sound system with radio/ cassette player.
Second generation (1991- 1999)
In 1991, the Pajero underwent a complete redesign. The 2nd generation Pajero offered a larger body with four style options depending on the top. There was a canvas top convertible, semi high roof wagon, metal top, and high roof wagon. Five engine options were available with the second generation Pajero including the 4D56 2.5-liter TD I4 diesel engine, the 4M40 2.8 liter TD I4 diesel engine, the 4G64 2.4 liter I4 petrol engine, the 6G72 3.0 liter V6 petrol engine, and the 6G74 3.5 liter V6 petrol engine alternatives. The second generation Pajero was the first Pajero to feature Mitsubishi Innovative Valve Timing and Electronic Lift Control in its engines. This generation was also the first to feature the much-acclaimed Super Select four-wheel-drive system, also known as the ActiveTrak four-wheel-drive system. It combined the pros of part and full-time four-wheel drive with several options like high range rear-wheel drive and high range four-wheel drive. Power output at the high engine ranges was 230 hp for the 3.5-liter V6 engine and 85 hp for the 2.5 liter turbo-diesel engine iterations. The transmission options for the second generation matched the first iteration, which was a 5-speed manual or 4-speed automatic. A Pajero evolution model was introduced in 1997 as a rally edition response to the new entry requirements for the Paris-Dakar rally's T3 Class.
In 1998 there was another facelift that entailed new headlights, wider fenders, grille, fog lights, and bumpers. Driver and front passenger SRS airbags were the first safety packages made available of the Mitsubishi Pajero. Upgraded interior wood trim was also made available on the 3.0 liter and 3.5-liter models. The Japanese automaker also included a leather-wrapped steering wheel and better suspension offerings for the higher trims. Negligible additions were made to the electronics and instrumentation.
Third generation (1999-2006)
In 1999, the Pajero was yet again redesigned. This Pajero iteration came with a lower but broader stance. A low center of gravity means the Pajero could handle better, and the body had excellent torsional rigidity. It was because the automaker used a unibody construction as opposed to the standard body-on-frame construction as was the case with the prior generations. The fuel tank was also put between the axles for better safety. Engine and transmission options also increased with the third generation Pajero. One could have a pick of a 4D56 2.5 liter TD I4 engine, a 4M40 2.8 liter TD I4 engine, 4M41 3.2 liter Di-D I4 turbo diesel engine, a 6G72 3.0 liter V6 engine, a 6G74 3.5 liter V6 engine, a 6G74 3.5 liter V6 GDI engine, or a 6G75 3.8 liter V6 engine.
The engine power of the 3.0 liter V6 engine was decreased to 175 hp with this generation, while the 3.5-liter engine option was modified to include direct injection, increasing its output to at least 217 hp. The transmission options of this generation included a 5 speed automatic transmission with INVECS-II sport mode, a 5-speed manual transmission, or a 4-speed automatic transmission. This generation also got an upgraded Super Select 4WD II that was made fully electronic. This system could be adjusted to deliver 50/50 front/rear torque distribution when required. The interior of the 3rd-generation Pajero included electronic windows, keyless entry, cloth or leather upholstery, a tilting steering wheel, automatic rearview mirrors, and manual climate control. For safety, this generation offered front and passenger airbags, antilock brakes, and electronic brake-force distribution.
Fourth generation (2006 to the present)
The 4th-generation of the Pajero was introduced at the Paris Motor show on the 30th of September 2006. With the prior generations, aspects like the body shell, suspension, and elements of interior design sparing the comfort features had largely remained unchanged, but that was not the case with this generation. Significant changes were noted in almost every aspect. The headlight design of this iteration made the sides narrower, and the bumper was realigned to be less imposing. There were slight redesigns to the taillights and the back, along with a sloping roofline. In 2015, the Pajero attained an updated front fascia, revised grille, and LED daytime running lights. For the interior, there was a revised metallic trim, including piano-black accents, wood grain trim for the Exceed and Super Exceed as well as soundproofing. In 2010, Pajero added a Rockford acoustic sound system and two interior color options, black and beige, in some markets. Unfortunately, the Pajero was discontinued in August 2019 after the Final Edition model was released. There are only 700 units available.
The Super Select 4WD II system was kept, and it was complemented by a new active stability and traction control system.
What is the fuel economy of Mitsubishi Pajero?
The 4th-generation Pajero has fewer engine options, though the linked transmissions stay the same. The engines include a 4M41 3.2-liter Di-D turbo diesel engine, a 6G72 3.0 liter V6 petrol engine, a 6G743.5-litre V6 petrol engine, and a 6G75 3.8 liter MIVEC V6 petrol engine with common rail fuel injection. The 3.2-liter turbo diesel option produces 167 hp and a fuel economy of up to 10.8 km per liter, while the 3.8 liter V6 with the MIVEC variable valve timing can give up to 247 hp with a fuel economy of up 7 km per liter. The 3.0-liter V6 petrol engine delivers 176 hp and a fuel economy 8.7 km per liter.
Exterior and Interior Styling
The facelift difference could be seen in the fourth generation because of the headlights and the front fascia. There were significant adjustments as well to the rear. The next considerable facelift of the Pajero occurred in 2015 when the body shell was slightly redesigned as the body stiffness was increased. This redesign also included LED daytime running lamps in some grades. Inside the fourth-generation Pajero, there is a noticeably premium look and feel. With the other generations, Mitsubishi did not make a habit of doing mid-cycle interior changes or upgrades, and so is the case with the fourth-generation Pajero. Most of the models that were produced from 2010 come with a proximity key and a touchscreen infotainment system. These models also offer soft padded surfaces throughout the interior. Both the front and rear passengers also have access to an AC power outlet and a USB port. The Exceed and Super Exceed models may feature a power tailgate with hands-free capability. In the more recent models, you can also access some of the SUV controls through a smartphone app.
Also, despite the generous external proportions to the 4th-generation Pajero, its interior space is average. The front row is roomy enough to accommodate large adults, as is the second row. However, the third row is slightly smaller, so it best suited for preschoolers or teenagers. Getting to the third row is relatively easy; you just pull a lever to tip forward the outboard 2nd-row seat on your side of entry.
Capability
When it comes to off-road, the new Mistubishi Pajero is worth it's salt. It is able to keep up with any demands of any enthusiast. The 4WD models come standard with Mitsubishi's Super Select 4WD II system that can be set to operate as 2WD or full 4WD depending on the manner in which you would like to split the torque arrangement. The center locking differential is straightforward though you can easily lock or unlock it by turning the Super Select dial. There is also a driver switch rear locker. When the locking differential is engaged, traction control is canceled across both of the axles. The fourth-generation Pajero also has a deep crawl ratio because of the gearbox.
Safety Features
The 4th-generation Mitsubishi Pajero offers a host of safety attributes that improve on the drive experience of passengers. Some of the elements include Lane Change Assist, Rear Cross Traffic Alert systems, dual front, side, and curtain airbags. Electronic stability control and brake force distribution packages are also available. Advanced seat belt reminders are fitted to the front seats, as well. During a passenger crash test, the passenger compartment was seen to hold its shape reasonably well. The airbag contact was stable. The newer models have improved knee protection from hazardous steering column elements.
What is Price of Mitsubishi Pajero?
The 4th-generation Mitsubishi Pajero remains one of the medium-priced full-size SUVs in the country despite their assigned stature in society. A new fourth-generation model circa 2012 would retail for 3 to 3.5 million Kenya Shillings while a more recent 2017 model would cost double that at 7 million Kenya shilling due to import duty and relative taxes.
Mitsubishi Pajero has had a long history as one of the most coveted SUVs in the country, serving as a competition for the Landcruiser in targeted markets. Its stability, endurance, and power made it a force to be reckoned with. Indeed Dakar rally proven, the Pajero is the symbol of a vehicle that can go anywhere at any time. It may be the simple yet effective design approach that made the automaker hesitate from adding significant changes to models mid-generation; after all, if it's not broken, don't fix it. However, that may have caused the Pajero to lag in creature comforts. This is in the cabin. The Pajero's discontinuation is a sad end to a model that is still relevant and an excellent buy for any terrain. If you want more information about it, call Auto Assista at 0725800422 or visit us on the First floor, Karen Triangle Mall, Karen Road off Ngong Road, Nairobi. We at AutoAssista look forward to serving you.