Toyota Land Cruiser Prado for sale in Kenya
What would you like to do?
About the Toyota Land Cruiser Prado
The Toyota Land Cruiser Prado is a mid-size four-wheel drive Sport Utility Vehicle from Japanese automaker Toyota.
Toyota Land Cruiser Prado Heritage
The Toyota Land Cruiser Prado's story begins in 1984 when it was introduced not as a new model in the Toyota lineup but instead as a light-duty version of the larger 70 Series Toyota Land Cruiser (J70). It was at the time known as the Land Cruiser 70 Light. Compared to the larger Land Cruiser, the 70 Light had a shorter wheelbase and a smaller engine, traits that the Prado has retained to this day. The 70 Light was sold under a variety of nameplates in various markets but as its popularity grew, it's the Prado nameplate that stuck.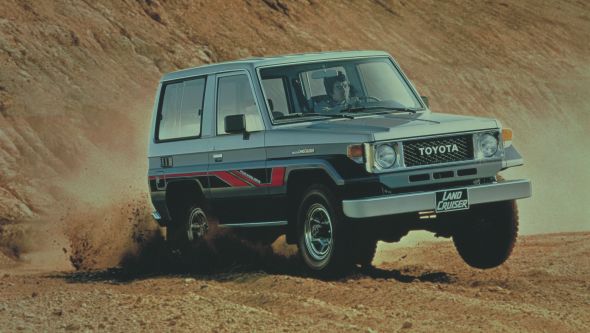 Toyota began working on a redesign of the 70 Light to make it more marketable as an on-roader and in 1990 began selling the resulting vehicle in Japan as the Toyota Land Cruiser Prado. The Prado retained the reliable and durable ladder frame chassis from the 70 series and added an automatic transmission option. At the time, not a single competing Japanese automaker offered an automatic four-wheel drive vehicle. Unlike the 70 Light, the Prado wasn't just for off-roaders, it was also a capable town car for those who desired a bit more room than the wagons and sedans of the day.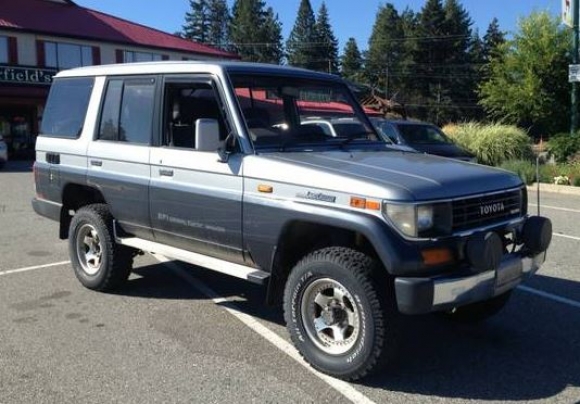 The J70 series Toyota Prado underwent further changes in 1996 – mostly cosmetic and safety-oriented. The wheelbase was lengthened and the front suspension replaced to further improve ride comfort. This second generation Toyota Prado was known as the J90 and was manufactured till 2002.
The third generation Toyota Land Cruiser Prado (J120) began production in 2002. This revision brought further tweaks to the suspension in a bid to improve longevity along with a more modern design. Many aspects of the J120 Prado's design are evident even in the most recent generation. You can still spot many J120 Toyota Prados on Kenyan roads today, a testament to Toyota reliability.
The fourth generation (J150) marks the first Toyota Land Cruiser Prado model that can still be legally imported to Kenya from Japan. Production began in 2009. Mechanically, there were barely any changes from the prior generation. Instead this generation received a host of electronic, safety, design and comfort features. This model would go on to receive two face-lifts, the first in 2013 and the other in 2017. A diesel Toyota Land Cruiser Prado was also reintroduced to the Japanese market in 2015 after a generation long hiatus.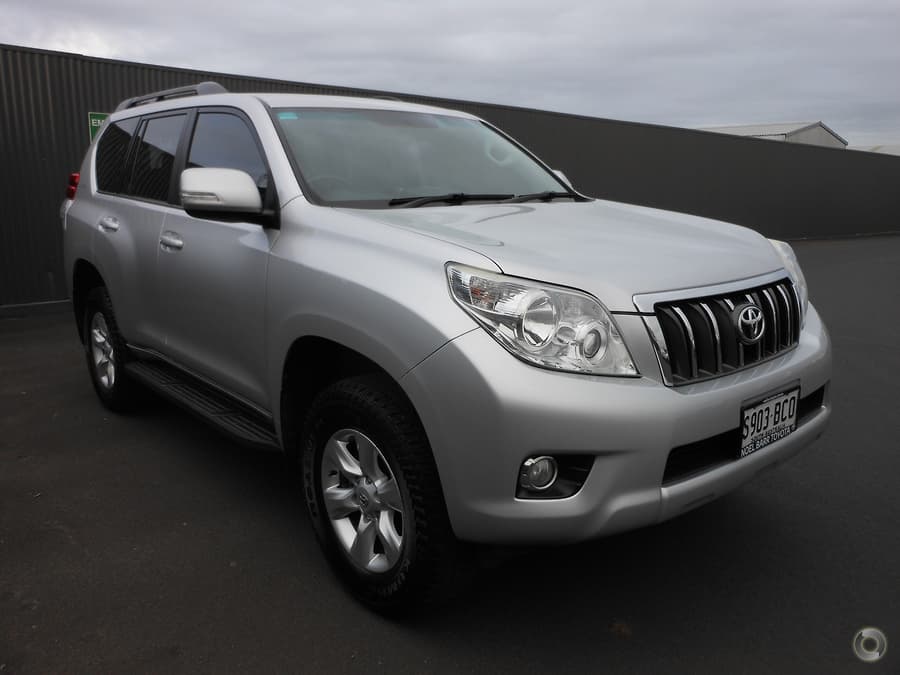 Toyota Prado Exterior Design
Toyota intended the J150 Toyota Land Cruiser Prado design to suit both urban and off-road settings and they succeeded on that front – the car never looks out of place. The fourth generation Prado is both longer and wider than the previous generation but the wheelbase remains the same as before. Gone is the iconic rear door mounted spare wheel replaced instead by an under body mounted one. The rear door itself doesn't open upwards like in previous model years but instead hinges to the side. Opening this door in tight spaces could be a challenge but luckily the top glass can be opened separately allowing the input and removal of smaller items.
The side of the car is adorned by large side steps and you'll need them given the height of the car. Toyota was kind enough to fit the side steps with a set of lights that illuminates both the entrance and the ground so you won't have trouble finding your way even in the dark.
2013 Toyota Prado Facelift
The J150 Toyota Land Cruiser Prado received it's first face-lift in 2013. Exterior changes on this revision we're a new larger grille, restyled headlights with an extension running down the sides of the grille and revised taillights. Daylight running lights and full LED headlights were offered as an option for the first time.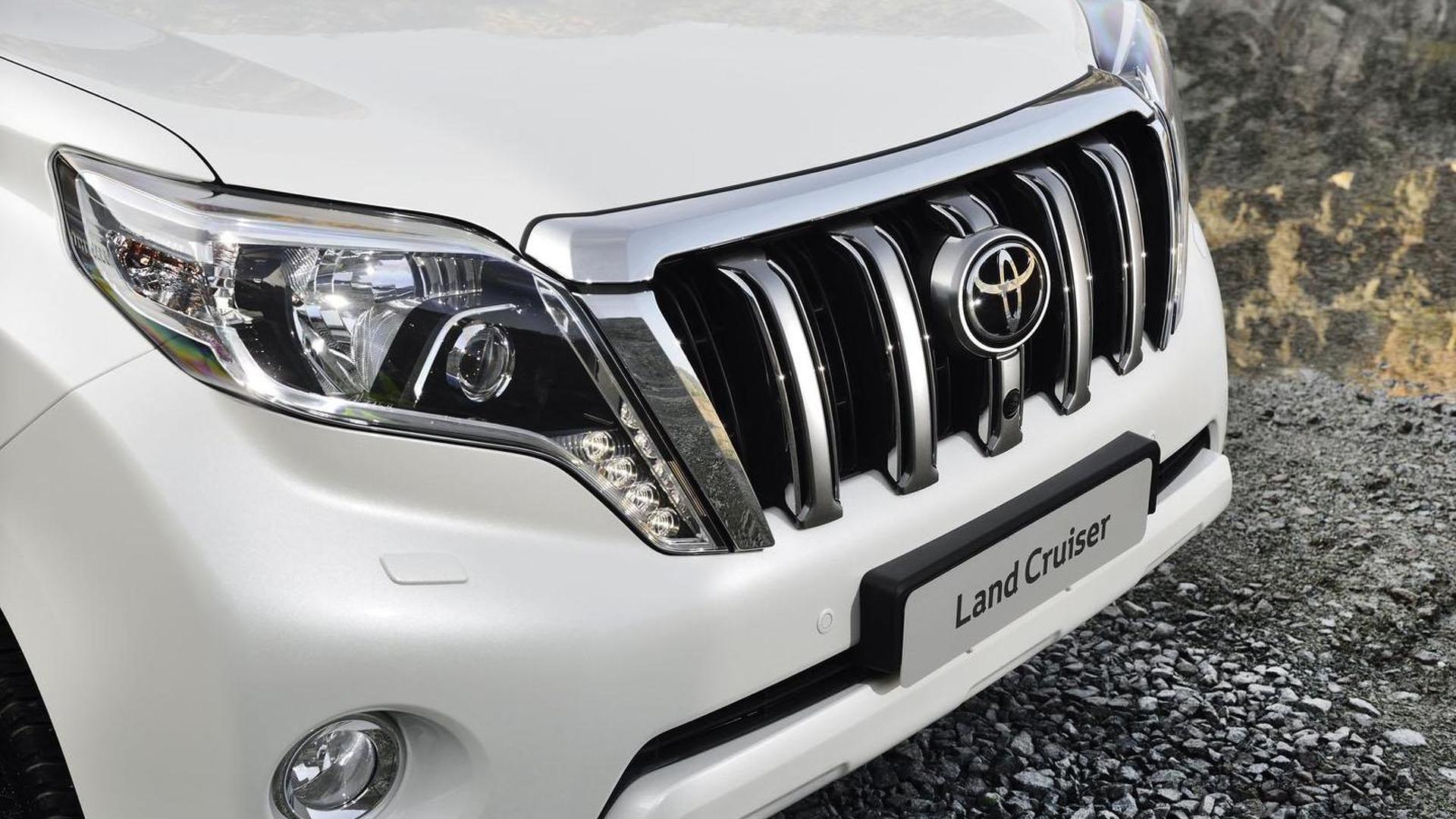 2017 Toyota Prado Facelift
This generation received a second facelift in 2017. Once again, the headlights and grille received the biggest revisions. The downward extension of the headlights was abandoned in favour of a new design reminiscent of the Prado's larger Land Cruiser sibling while the grille received thicker and darkened vertical bars and a more prominent Toyota logo. The front and rear bumpers were also revised but changes were minimal. Daytime running lights and full LED headlights were fitted as standard on all trims. The Toyota Prado had previously been limited to 17 and 18 inch alloy wheels but a 19 inch was made available with this facelift.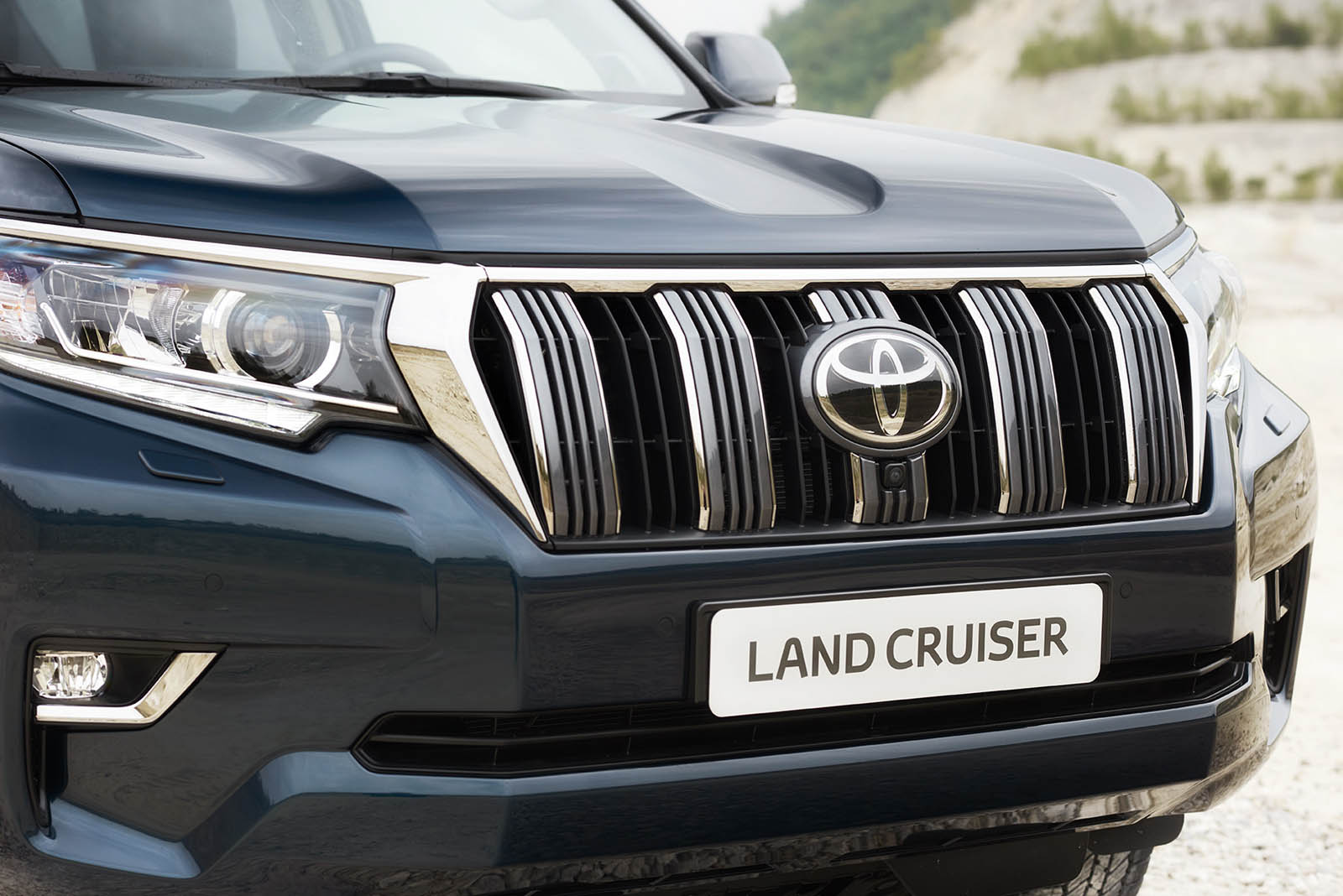 How is the Toyota Land Cruiser Prado's Interior?
The Toyota Land Cruiser Prado's interior appears utilitarian when compared to luxury SUVs from brands like BMW, Mercedes, Audi, Volvo and even their own luxury divison Lexus but that's not to say it isn't attractive. There's a symmetry to the interior's design that extends from the dashboard to the controls. Materials feel pleasant to the touch and if you opt for the higher trim levels you'll find that the leather seats rival even those of the German competition. Knobs, switches and dials in this car all feel like they could last a hundred years.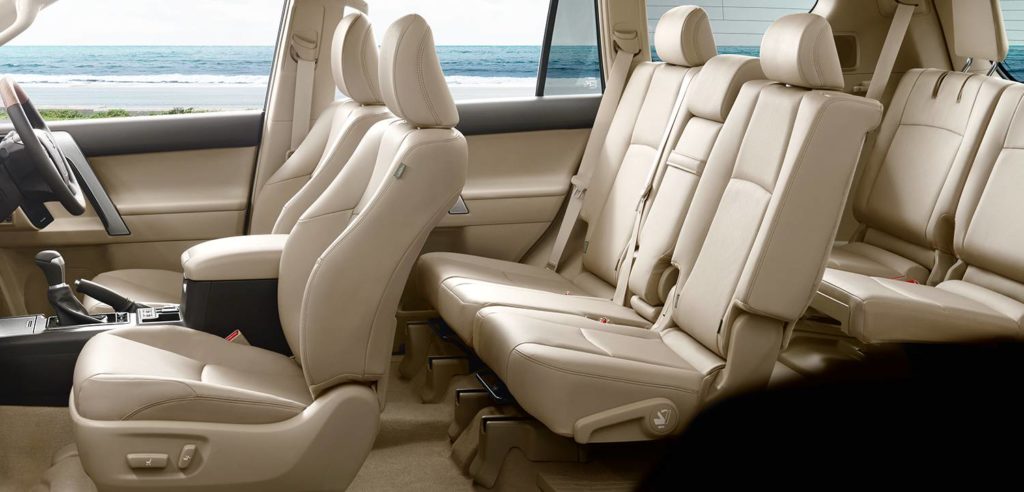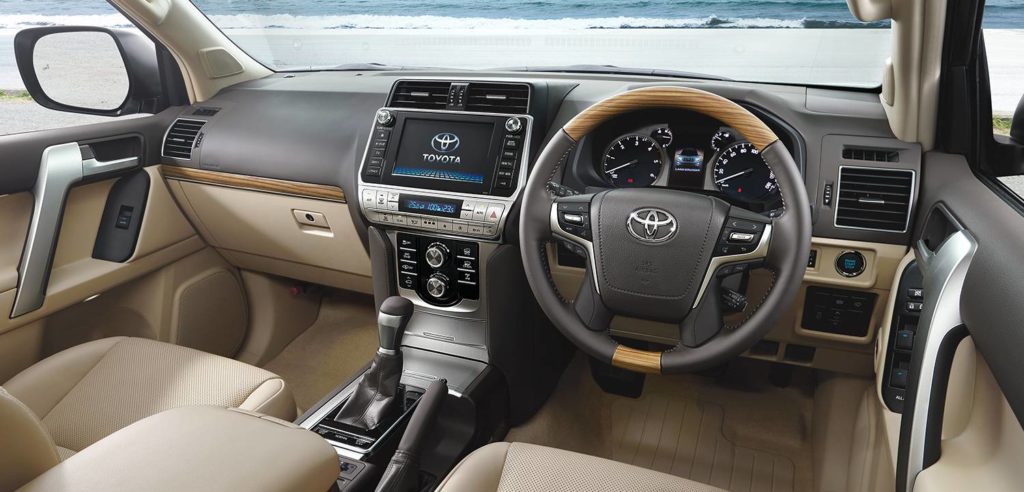 The Toyota Prado's interior received some changes for the 2013 model year. The driver's instrument cluster was redesigned to be more ergonomic and now included a 4.2 inch colour multi-information display to show the driver useful information about their car's setup and driving conditions.
Interior changes for the 2017 model year were less noticeable. The infotainment system received a minor refresh and the air conditioning controls were adjusted slightly. The front seats received cooling when previously they were only heated while the rear seats received heating. Lastly Toyota replaced the steering wheel with the one from the Toyota Land Cruiser.
How comfortable is the Toyota Prado?
The Land Cruiser Prado does a good job of insulating occupants from the outside world. Engine, wind and tire noise are all kept to a minimum while the suspension wafts the car effortlessly over most road imperfections. The fourteen speaker sound system further enhances this insulation effect by drowning the cabin in crisp surround sound. An 8 inch touch controlled head unit is provided as standard and the built in USB connector allows you to play music from any of your portable devices. While the system is feature-packed, it supports neither Android Auto nor Apple Carplay. If these features are important to you an aftermarket head unit is your only option.
The floor is lower than in previous generations adding to what was already generous legroom for both front and rear passengers. As the driver, you sit high up which gives you a commanding view of your surroundings with the large windows granting you great all-round visibility except when reversing – luckily a reverse camera is standard, with higher trim levels adding parking sensors. The steering wheel both tilts and telescopes while the driver's seat has multiple levels of adjustment guaranteeing a comfortable driving position for drivers of all statures.
Other interior amenities include dual-zone air conditioning, air conditioning vents for the second-row seats, numerous storage sections and plenty of cupholders.
Is the Toyota Land Cruiser Prado a good off-road vehicle?
While the Land Cruiser Prado has slowly progressed from an out-and-out off-roader to a luxury mid-size SUV over the years, off-road capability has not been compromised. The tried and tested ladder frame chassis from it's predecessors is still used to date but is now accompanied by a number of modern electronic systems to make off-roading easy even for novice drivers.
Downhill assist control prevents the wheels from locking when you apply brakes on steep inclines keeping your vehicle in a straight line. Toyota's CRAWL control works like a low speed cruise control system and takes care of both throttle application and braking to keep you moving even in low traction conditions. The crawl speed is selected through a knob on the dashboard.
All Toyota Land Cruiser Prados are full time four wheel drive and a centre locking torsen Limited Slip Differential is available for when you feel the need to send power to all four wheels equally.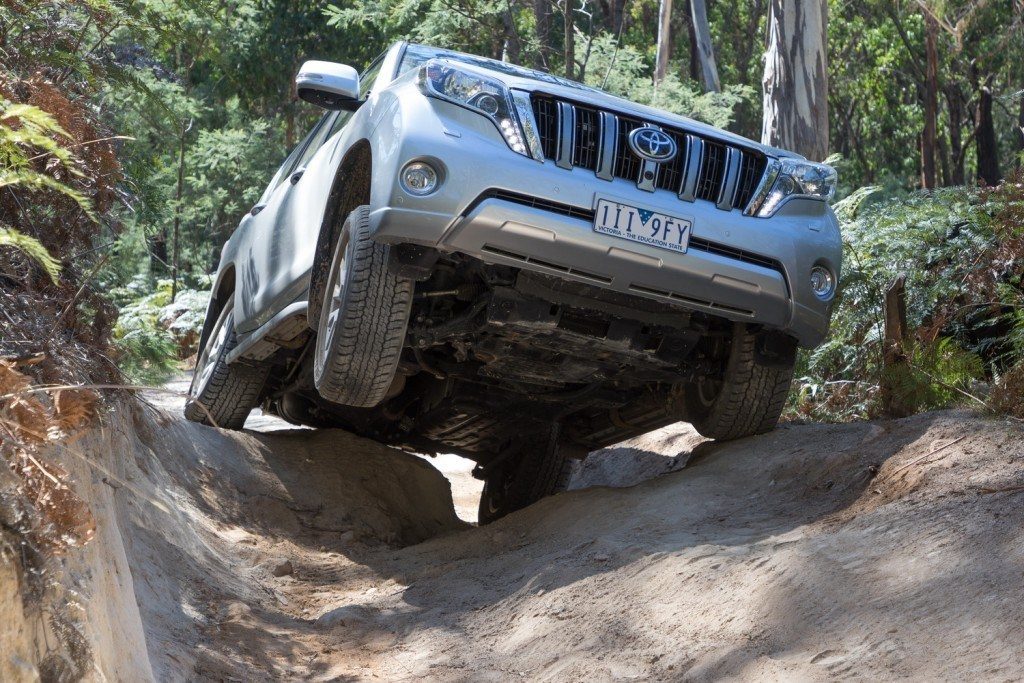 Is the Toyota Land Cruiser Prado a good on-road vehicle?
On city roads, the Land Cruiser Prado provides good ride quality but is not quite at the level of competing luxury offerings like the Range Rover Sport and the BMW X5. It doesn't soak up bumpy roads quite as well.
The car is huge and heavy and it's weight is felt in the form of copious amounts of body roll whenever you take a corner too fast. Acceleration suffers too thanks to the weight, with the fastest Prado taking upwards of 12 seconds to reach 100kph from a standstill. The car's length and wide turning radius make squeezing into tight parking spaces a challenge.
The lack of an automatic stop-start system also means you don't want to be stuck in traffic for long – the already not great fuel economy gets even worse due to the large engine size.
On the highway is where the Land Cruiser Prado redeems itself. Overtaking is a breeze if you opt for the higher spec engines and the engine settles to low RPMs when cruising giving a very quiet ride. Radar guided cruise control in the newer models takes care of braking and acceleration, leaving you to focus only on steering.
How many passsengers can the Toyota Prado carry?
The Prado can be optioned with a third row of seats, increasing seating capacity from five to seven. Entry to the third row is easy and the seats are large enough to seat adults comfortably for long distances.
When not in use, the Toyota Land Cruiser Prado's second-row and third row seats can be folded down to provide class-leading cargo capacity.
Toyota Land Cruiser Prado Performance and Fuel Economy
Three engine options are currently available in Japan. These are the 2700cc 2TR-FE straight four-cylinder petrol engine, the 2800cc 1GD-FTV turbocharged straight four-cylinder diesel engine and the 4000cc V6 petrol engine. The 2800cc turbo-diesel is only available for the 2015 model year onwards and replaces the 4000cc petrol.
The 2700cc engine is fine for city driving but can get noisy under hard acceleration and at highway speeds. The 2800cc diesel provides a good balance of power, performance and fuel economy while the 4000cc V6 provides the best driving experience of them all, smooth and quiet at all speeds.
Detailed engine specs can be found in the table below:
| Engine | Features | Max Power | Max Torque | Top Speed | Fuel Economy | Transmission | Availability |
| --- | --- | --- | --- | --- | --- | --- | --- |
| 2TR-FE (2700cc) | DOHC, Dual VVT-i | 161 hp | 246 Nm | 160 km/h | 9.0 km/l | 6-speed Auto | 2012-present model year |
| 1GD-FTV (2800cc) | DOHC, Turbocharged | 177 hp | 450 Nm | 175 km/h | 11.8 km/l | 6-speed Auto | 2015 to present model year |
| 1GR-FE (4000cc) | DOHC, Dual VVT-i | 249 hp | 381 Nm | 180 km/h | 8.0 km/l | 6-speed Auto | Upto 2014 model year |
Toyota Land Cruiser Prado safety features
A slew of safety features were added as standard to the Toyota Land Cruiser Prado for the 2017 model year. In addition to the seven air bags from prior models, the Prado received pedestrian detection, adaptive cruise control, automatic high beams, lane departure warning and a blind spot monitoring system.
What are the Toyota Land Cruiser Prado trims?
There are four Toyota Prado trim levels available in Japan: The TX, TX 'Limited' (or TX-L), TZ and the TZ 'G-Selection' (or TZ-G). The TZ(4000cc) trim was discontinued in 2015.
The TZ-G is the highest trim level and features Toyota's Kinetic Dynamic Suspension System, a hydraulic suspension system that delivers a smoother ride in harsh off-road conditions. It's only available with the 2800cc turbo-diesel engine in Japan. The Prado TZ-G is fitted with 19-inch alloy rims as standard, while the Prado TX and Prado TX-L are limited to 17 and 18 inch options. Third row seats are standard on the TZ-G whereas they are an option on the TX and TX-L.
What is the price of the Toyota Land Cruiser Prado in Kenya?
The 2700cc Toyota Prado will cost you from around KES.4,000,000 for the 2012 model to KES.7,800,000 for a brand new 2018/2019 model.
The 4000cc Toyota Prado's price ranges from KES.4,600,000 to KES.6,000,000. This 4000cc model's production ended in 2014.
The 2800cc Toyota Prado is available for the 2016 model year onwards. A 2016 diesel Toyota Prado TX will cost you around KES.6,200,000 while the Prado TX-L will cost around KES.6,800,000. A brand new 2800cc Diesel Toyota Prado will cost you around KES.8,500,000.
Croton Motors enables you to find a Toyota Land Cruiser Prado for sale in Nairobi, Kenya or import a unit to Kenya from Japan. We are now importing year 2021, 2020, 2019, 2018, 2017, 2016, 2015, and 2014 Toyota Land Cruiser Prado to Kenya.
Toyota Land Cruiser Prado Image Gallery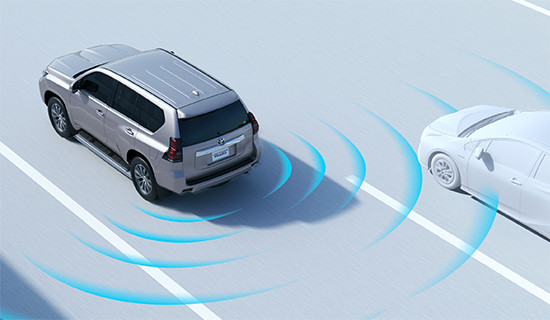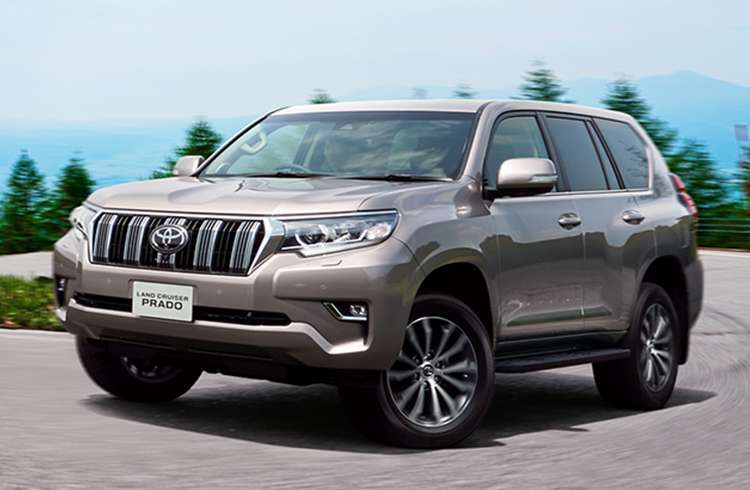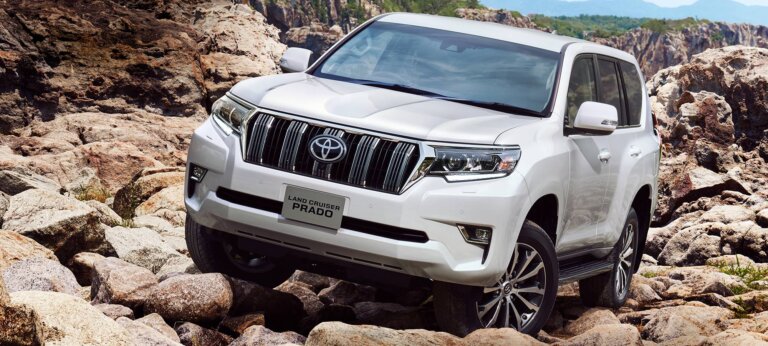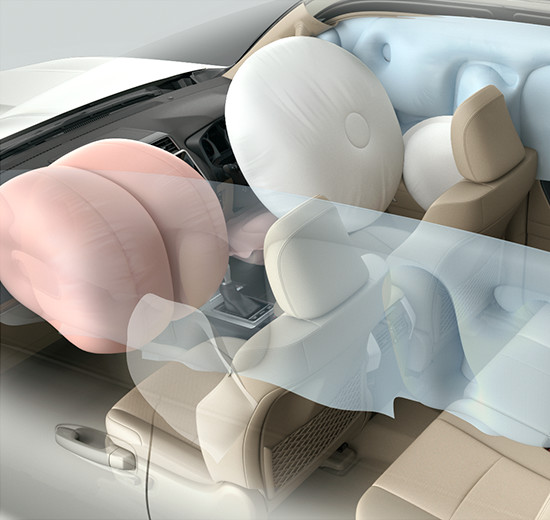 Toyota Land Cruiser Prado Videos
Full Toyota Land Cruiser Prado Specifications
Toyota Land Cruiser Prado for sale in Nairobi
Four Wheel Drive
Automatic